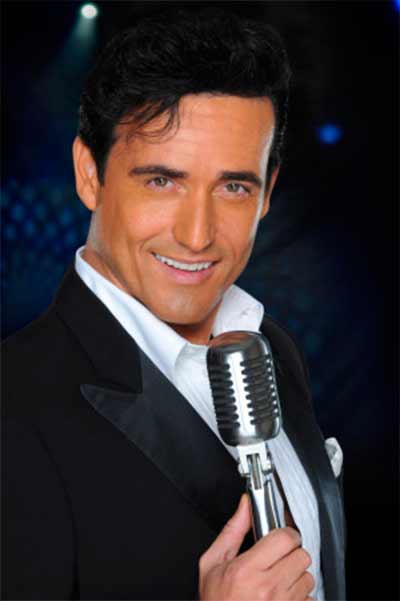 Carlos Marín (born October 13, 1968) is a Spanish baritone and member of the opera-pop quartet IL DIVO. Born in Rüsselsheim, Germany, raised in Mörfelden-Walldorf (Hessen, Germany), but educated in Madrid, Spain, Marín begins his career very young, recording his first album when he was eight years old, produced by Father Abraham. The album, entitled El pequeño Caruso, contained songs such as O Sole Mio and Granada. He even sang Granada before an audience of 700 people aged eight. At the age of ten, he recorded his second album titled "Mijn Lieve Mama" (My dear mom). That musical beginning led him to study piano and music theory.
At twelve he moved to Spain, where he won several first prizes in television competitions, such as Gente Joven and Nueva Gente on TVE at 15 and 20 years old. During this time he began to sing live accompanied by an orchestra in television programs such as "Por la mañana" presented by Jesús Hermida, Nieves Herrero, María Teresa Campos, Terelu … etc.
He has earned an important reputation as a singer, cultivating different musical styles and receiving excellent reviews. She made a name in the music and lyrical industry participating in different competitions as a singer: the "Jacinto Guerrero" where she won the first place, "Francisco Alonso" and "Julian Gayarre" in 1996, where she won the second place as a male singer, between others.
He has acted in various musicals, beginning in 1993 as Marius in Les Miserables and later in Beauty and the Beast in the character of Beast, Grease (where he played the role of Vince Fontaine), The Deluge That Comes in the character of Don Silvestre and taking turns with José Sacristán as DON QUIJOTE in El hombre de La Mancha. He also collaborated in the production of The Magic of Broadway and Peter Pan (on stage and on CD), in the latter he also shared the tasks of Producer and Music Director with Alberto Quintero.
He sang in the animated film The Nightmare Before Christmas by Tim Burton and was also the voice of the Prince of the Spanish version of Disney's Cinderella, made in 2000.
Marín has studied singing with master classes with Pedro Lavirgen, Suso Mariategui, Alfredo Kraus, Montserrat Caballé and Jaume Aragall.
He has been acclaimed as a baritone cousin in several operas, including La Traviata, El Barbero de Sevilla, La Boheme, Lucia Di Lammermoor and Magdalena Butterfly: Some of his performances are available on CD, such as Don Giglio's Capricciosa Corretta or the version of Damut de Marina.
Marín has also played zarzuela. He has participated in the zarzuelas of the Jardines de Sabatini (Madrid), a meeting point for music lovers in summer, and the gardens of the Royal Palace of Madrid. Some of his performances can be found on DVD, such as La Gran Vía, La Revoltosa, where he plays the role of Felipe and La Verbena de la Paloma, where Julián acts.
In December of 2003, he became member of the international musical quartet IL DIVO. In addition to their good musical work, IL DIVO members are also known for their impeccable image, always wearing Armani costumes. As a result, the first album, called IL DIVO, has become worldwide multiplatinum after being released in November 2004. The album entered directly into the number 4 of the Billboard and has sold worldwide 12 million copies, ousting Robbie Williams from the number one of the lists of England. His second album, Ancora, was released on November 7, 2005 in the United Kingdom and "Siempre", the subsequent album, was released on November 21 of the same year in the rest of the world.
With his latest album The Promise that went on sale on November 10, 2008, except in the United States, Canada (November 18) and Japan (November 26) make a total of 26 million records sold worldwide.
In 2011, Carlos Marín surprised us again. While preparing a new album with IL DIVO, he pauses to sing in his city: Madrid. A city that was witness during 4 unique nights of a show in the best style Las Vegas, thought and directed by Carlos and in which once again we were able to enjoy one of the best voices that Spain has given to the world.
At the end of 2015, the total sales of IL DIVO albums exceeded 40 million copies. Currently Carlos Marín combines IL DIVO with his parallel career as a solo singer under the banner of "CARLOS MARIN IN CONCERT", in addition to continuing his role as Producer and Music Director of the singer "INNOCENCE.